Web Design Portfolio
A well designed and visually appealing website shows your customers that you are serious about their business. It attracts new business and lets prospective customers know about you, how to find you, and what products and services you offer. Many of your customer's questions are already answered when they call - they're ready to get the specifics and to do business.
Some people like the ability to make changes to their pages as needed. We recommend Adobe (Macromedia) Contribute, a graphical web editing program. We code the sites with Adobe (Macromedia) Dreamweaver using the template feature. That means we can make changes across hundreds of page with just a few key clicks. This keeps maintenance costs low which often add up to be higher than the original cost of the site.
You may not have the time or inclination to make changes to your site. We can do the maintenance as needed or if there are frequent changes, a monthly maintenance plan saves you cash.
Milk and Honey Farm has been online since 1999. There are nearly three-hundred pages and in the Great Pyrenees section, over sixty pages of information! The site draws visitors from all over the world who are looking for answers on sustainable living or maybe who are just taking a little break from their busy lives.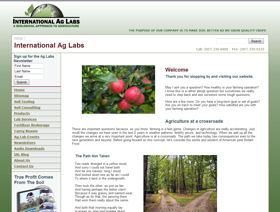 International Ag-labs has a world-wide soil analysis business that deals with everyone from Amish farmers to Hollywood celebrities. The web site is marketing tool that has succeeded in helping the business grow substantially.
Visit International Ag-labs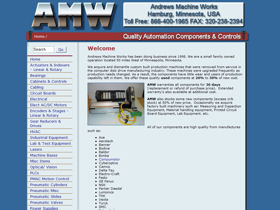 Andrews Machine Works is a family owned business that tears down new and used industrial automation equipment for resale. While most of their new business comes their Ebay store, their repeat customers shop on the website. The ability to display and search the rapidly changing inventory by categories helps customers find what they need. The owners make daily updates to the website with the Contribute program.
Visit Andrews Machine Works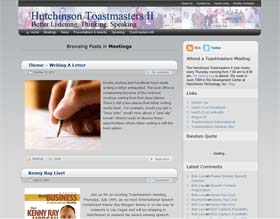 The Hutchinson II Toastmaster Club's site won the 2006 and 2010 Best Website Award among the 285 clubs in District Six. The balance of design elements and white space makes the site inviting to browse and read. The site informs potential members about Toastmasters and provides resources for current members. This site also automatically feeds FaceBook and Twitter pages giving it the best social media award for 2011.
Visit Hutchinson II Toastmasters
S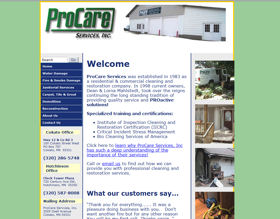 ProCare Services Inc. needed a web site to provide a corporate presence for its growing regional market in Minnesota.
Visit ProCare Services Inc.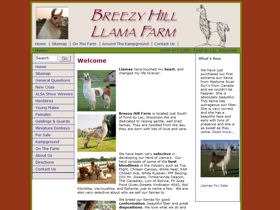 Breezy Hill Llama Farm began as a petting zoo to add camper activities to the owner's KAO Kampground. When she added a young llama, she discovered a growing love and passion for llamas. The Farm evolved into one of the top llama breeders in the Midwest. This site showcases the many quality show winners and breeding animals as well as those for sale. The owner makes updates to the website with the Contribute program.
End of main content.