Bella's Miracle

Bella is one of our Great Pyrenees female dogs who has beautiful puppies. She kept climbing over the five-foot fence to get out of her kennel. When she started to walk on three legs, with her back leg drawn up to her hip I was worried. Obviously, she was in great pain.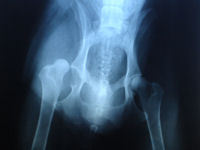 I took her to the vet. His diagnoses, after an intensive exam and X-rays, was a dislocated femur. He said she had torn ligaments and cartilage. The Vet suggested doing a surgery to remove the head of the femur bone as the least expensive option. A hip replacement was the most expensive option. I wanted a chance to think about the surgery and to pray. We brought her home with a lot of pain pills to keep her comfortable. I also brought home the X-ray.
Bella seemed to be moving around a little better—but still did not put any weight on her leg. The pain pills were helping. Bob and I prayed for her and waited. We talked about the surgery and how much it would cost. It was a lot of money.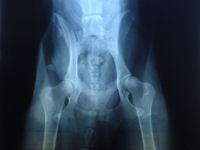 Finally, we decided to go ahead with the surgery. Bob dropped her off at the vet at 8:00 AM. At 10:00 AM, I received a phone call from the vet. He told me that Bella was under an anesthetic and had an IV feeding her fluids. The nurse wasn't't sure which leg was dislocated, so he decided to X-ray her again. That is when he called me. He told me that it was a miracle! He said that there was absolutely nothing wrong with Bella. She was completely healed! The femur bone was back in place—with no damage to the ligaments or cartilage. The healed hip is in better overall condition than the good hip. He said that he had been in practice for 42 years and this is only the second time anything like this has happened – both times when the owners prayed for their animals. I told him we prayed.
We picked up Bella the same day. I told the Vet again (and everyone in his office that could hear me) that we prayed. He kept repeating that it was a miracle. I collected the new X-ray on the way out.
Now what is so neat about this is that I had two opportunities to testify over the weekend at different churches. God did a miracle for my dog and I have the X-rays to prove it. It was really fun, standing on the podium and waving Bella's X-rays around. Some churches do not believe in miracles, but these folks heard about Bella's miracle. The bottom line being that if God cares enough to heal my dog, how much more is His concern for his people? I got to pray for several folks who had bone, joint, ligament, and cartilage problems. This is amazing!
Meanwhile, back at Milk and Honey Farm, Bella is doing great. She is running around guarding the front pasture. Baron, Shiloh and Molly are out there with her, but Bella can run faster than any of them.
Take some time to study the X-rays and consider what the Lord has done. It is all good!
I recommend that you pray for your animals - certainly before you schedule surgery. God likes them too. He created them, remember?
Bella's Legacy
It is with heavy hearts that we share with you that Bella was killed on Friday September 19th, 2008. The circumstances surrounding our loss are as follows.
There was a terrific storm that night. Bella had always been frightened of the high winds and rolling thunder that comes with big weather in Minnesota. We moved her from the pasture to the front kennel by the house. The kennel has a big dog house with room for three of the adult Pyrs. It has a six-foot chain link fence. We moved Mollie too, since she is also afraid of thunder storms. They had a fresh bucket of water and a huge pan of Purina dog chow. None of our Pyrs have ever gotten out of the front kennel. But late that night, Bella somehow managed maneuver past a cattle panel and make a hole in the chain link fence.
Bella must have been terrified of the thunder and huge lightning bolts and run into the highway. She was hit and killed instantly.
Bella legacy will go on. Check out her puppy litters from the list in the right column. Her pups were exceptional.
Bella's legacy is more than her puppies. We have the X-rays showing her own special healing miracle. I have spoken of this and shown the X-rays to hundreds of people. The last time was September 16th at the First Baptist Church in Cokato. There were at least 300 people who saw the X-rays and heard me speak about the goodness of God. Our veterinary was there to authenticate the miracle of healing. Where ever I am invited to speak, I plan on taking Bella's X-rays and tell her story.
Bella's legacy will go on.
End of main content.