Paying Too Much For Water?
I believe that everyone should have a Berkley water filter and a garden! Food is important, water is vital. If food and water prices continue to climb, and if the crazy weather patterns continue, having a source of pure water will help to keep your family secure. Please check out the following information on the Berkeys and stay safe. Just saying.
Due to Berkey shortages, we are not selling with online sales.
Berkey Water Purifier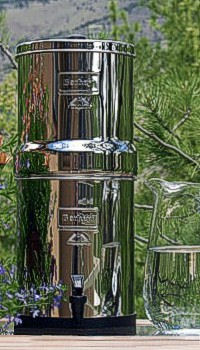 Good, clean, pure water is a HUGE health factor for you and your family. Whenever there is a national, or worldwide disaster, the first item needed is pure water. Every day, I use my Berkey water purifier. I am not looking or expecting a fire or a flood here at Milk and Honey Farm. It is just important to my health and the health of my family that we have the best water available. It is also good to know that whatever happens, we will have pure water. I have the Big Berkey stainless steel water purifier in my kitchen. It works for me.
Take some time, and read the following information about the Berkley. Talk it over with your family and decide which one will best fit your needs. This is one of the best kinds of "homeland security".
Gravity operation means no electricity or water pressure is required.
The "Tortuous Path" micro-pore design of the Black Berkey® purification elements assures you of the cleanest, purest water possible for drinking and all other purposes.
Black Berkey® purification elements are good for 6000 gallons of water. Consider bottled water at $ .39 a gallon would cost $ 2,340 for 6,000 gallons. About every six months, go over the element with a Scotchbight® pad and rinse in water.
The Berky can be tested for proper operation by putting a mixture of water and food coloring into the top tank. The purified water in the lower tank will be colorless. This simple test allows you to verify the functioning of the elements.
To store the Berkey, remove the Black Berkey® purification elements which are held in place with wingnuts - no tools required. Allow the elements to air dry for three days. The unit can then be stored indefinitely.
An optional filter element is available that reduces arsenic and floride.
The Berkey® purification system removes pathogenic bacteria, cysts and parasites while extracting chemicals including herbicides, pesticides, organic solvents, VOCs, detergents, cloudiness, silt, sediment, foul tastes and odors. It reduces heavy metals such as cadmium, chromium, copper, lead, mercury, aluminum as well as nitrates and nitrites, without removing the beneficial minerals your body needs.
The unique design of Black Berkey® purifier elements combines the age-old process of micro-porous filtration coupled with modern state-of-the-art technology and the highest quality materials to bring you the finest water purification system available anywhere. The micro-pores within the self-sterilizing and re-cleanable Black Berkey® purification elements are so incredibly small that pathogenic bacteria are simply not able to pass through them.
The media within Black Berkey® elements removes contaminants by a surface phenomenon known as "adsorption" which results from the molecular attraction of substances to the surface of the media. The exclusive purification elements are also impregnated with proprietary media that promote ionic "absorption" of pollutants within the micro-porous elements. Another reason Berkey® systems are so effective in removing contaminants from water is the extremely long "contact period." Other filtration systems rely on water pressure that forces water molecules through the filters at 60-90 PSI. In such systems, individual water molecules come in contact with the filter media for a mere fraction of a second. Water molecules passing through the revolutionary micro-pore structure of the Black Berkey® purification elements are drawn gently by gravity and stay in contact with the media for several minutes. This makes the Black Berkey® filter media much more efficient in capturing contaminants.
Berkey® represents the absolute zenith of nonelectric, go-anywhere, gravity water purification excellence.
Watch Sarah Talk About The Berkey
The video should play by itself in a few moments. If not, you can download the video below to play on your computer.
Consider These Scientific Tests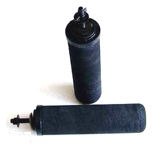 Berkey® purifiers using the Black Berkey® purification elements are proven to reduce pathogenic bacteria (including E. Coli, Klebsiella, Pseudomonas Aeruginosa, Giardia and Cryptosporidium) by 99.99999%.
The Berkey Light® System has been tested with the highest pathogenic contamination levels that can be produced in a laboratory. When contamination levels exceed one billion pathogens per liter of water (10,000 times the density of contamination used in the standard test protocol for bacteriological removal) they're classified as "TNTC" (too numerous to count.) Under normal testing protocol, one pathogenic organism is tested at a time, each with a fresh purifying element. For this test, however, the laboratory was directed to combine three separate pathogenic TNTC cultures. Tested under this extreme contamination level, absolutely no pathogens were able to make it through the purification elements. The laboratory then incubated the water, and nothing grew. When the filtered water was viewed under an electron microscope not even in-viable (dead) microbes were detectable — nothing was present but pure H2O. Furthermore, contaminants reduced to below-detectable-limits include Trihalomethanes, Radon 222, and volatile organic compounds including Benzene, 2,4-D, Heptachlor, MTBE, Styrene, Tetrachloroethylene and Toulene, among many others.
The Black Berkey® filter formulation has been tested by State & EPA accredited laboratories to exceed EPA & ANSI/NSF (Std. 53) protocol. Click to see test results from the University of Arizona, Spectrum Labs and the LSU Department of Toxicology and Environmental Science.
Stainless Steel Berkeys
The stainless Berkeys are available in five sizes. All consist of an upper chamber that holds the elements and supply water. The lower chamber holds the purified water. The Berkey can be easily disassembled for travel or storage.
The Berkey performs best when the top chamber is full as these charts show. Additional filters can be installed in the spare holes to improve the speed of purification.
Name
Dimensions
Included Elements
Holes
Capacity/Hour w/ Two Elements
Capacity/Day w/Max Elements
MSRP
Our Price
Order
Travel Berkey
7.5"D x 18"H
2
2
2.75 gal.
66 gal.
******
******
Big Berkey w/2 filters
8.5"D x 19.25"H
2
4
4 gal.
190 gal.
******
******
Royal Berkey w/2 filters
9.5"D x 23"H
2
4
4 gal.
190 gal.
******
******
Imperial Berkey w/2 filters
10"D x 25.75"H
2
6
5.5 gal.
400 gal.
******
******
Crown Berkey w/ 4 filters
11"D x 30"H
2
6
6.5 gal.
650 gal.
******
******
Black Berkey Elements
2
Use these Black Berkey elements to maximize the capacity of your Berkey or other gravity feed water purifier. $7 shipping.
******
******
PF-2 Floride / Arsenic Reducer Filters
2
These screw onto the underside of the Black Berkey elements, inside the fresh water tank, and reduce fluoride and arsenic. The pair, together will typically treat 1000 gallons of water. $7 shipping.
******
*Minnesota residents need to pay 7.375% sales tax also.
Free Fedex shipping in the continental United States for orders over $ ****.
Berkey Light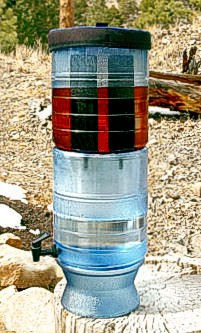 The Berkey Light has a 50-mil thick Lexan® polycarbonate that will provide years of service. The image on the left shows the top chamber filled with water colored by red food coloring. All the food color is removed and only pure water reaches the bottom fresh water chamber.
Dimensions: 9"D x 26.5"H with base (21"H w/o base)

Capacity: 2.75 gallons

Flow Rate: 4.25 gallons per hour when full (102 gallons in 24 hours.)The flow rate of all gravity filters is highest when upper chamber is full.
MSRP: $ ******
Our Price: $ ******
*Minnesota residents need to pay 6.875% sales tax also.
Free Fedex shipping in the continental United States
Warranty
New Millennium Concepts, Ltd. warrants this product to be free from defects in materials and workmanship for a period of 6 months from date of purchase. Black Berkey® purification elements have a two-year prorated warranty calculated in six months intervals. New Millennium Concepts, Ltd. will replace or repair any product that it deems is not properly functioning during the stated warranty period. Relief under this warranty is limited to the replacement or repair of defective materials or workmanship only. New Millennium Concepts, Ltd. shall not be held liable for incidental or consequential damage to personal property from, but not limited to, a defective unit, improper use, abuse, accident, or neglect, etc. No warranty will apply to units which have been used for purposes not intended, which have been altered so as, in the manufacturers judgment, to affect adversely its performance. This warranty is for the original retail purchaser only, and cannot be transferred. Repair or replacement of parts will be made upon delivery to manufacturer's plant or authorized service dealer at customer's expense. The laws of the State of Texas, USA, will govern any disputes regarding this warranty or claim made. This warranty, which is given expressly in lieu of all warranties, expressed or implied, or merchantability and fitness for a particular purpose, constitutes the only warranty made by New Millennium Concepts, Ltd.
End of main content.