Had Your Fill With Dieting?
Biblical Health & Nutrition Manual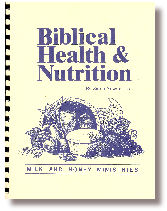 The Biblical Health and Nutrition Manual is designed to encourage a healthy LIFE STYLE based on the WORD of GOD, input from MODERN SCIENCE, and "HOW TO" KITCHEN SKILLS.
This is a basic building block of GOOD NUTRITION, without any weird stuff. Sarah says, " I wrote this manual for my Biblical Health and Nutrition class at Christ for the Nations Bible College in Dallas Texas. I consider myself to be a midwife for good nutrition. I can't push, but I can coach while you do. The Manual covers really basic material and it's probably all stuff that you've heard before. The key is getting the basics down as a good foundation and building your healthy lifestyle upon it. Being in group or having another person to hold you accountable is important also. The manual is meant to studied and applied one chapter per week for six weeks."
We have sold thousands of these at home school books fairs to use as a course in nutrition and basic home eccomonics.
Excerpt from the Manual: "Incredible as it may seem, water is quite possibly the single most important catalyst in losing weight and keeping it off. Water suppresses the appetite naturally and helps the body metabolize stored fat. Studies have shown that a decrease in water intake will CAUSE fat deposits to increase, while an INCREASE in water intake can actual reduce fat deposits."
My vision is to see the Body of Christ walking in the fullness of the scriptural promise for health and well being. I believe that this manual will help do this. My desire is to present motivational truths that set free those held captive by food bondage and addictions (Isaiah 61: 1-3).
Price each: $*******
Shipping $******) plus $.40 for each additional manual in the United State. Shipping is $7 for Canada and Mexico. International shipping is $14.
Minnesota residents need to pay 6.875% sales tax also.
WATCH THE MANUAL VIDEO
The video should start in a moment or two. If you have a slower connection, try downloading one of these video files.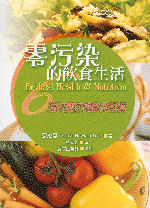 Sarah's Biblical Health & Nutrition Manual is just not for English speaking people. Click here to read about Sarah's connection to the Chinese people.
End of main content.