Is Your Skin Feeling Itchy?

I really like good soap - the kind of soap that makes your skin feel clean and smells good. The kind of soap that is made with natural ingredients like goats milk, olive oil, cocoa butter, coconut oil and different types of essential oils (Lavender, lemongrass, geranium, eucalyptus, cinnamon leaf and more).
I like soap that is made the old fashioned way.
I like soap that contains organic herbs. (Peppermint leaves, lavender flowers and more)
I like soap that is warming and comforting.
I like soap that does good things for my skin.

About Our Home Made Soaps

These soaps are hand made for us using the herbs from our garden. You will fall in love with these once you have tried them on your skin. These soaps make creative and thoughtful gifts for anyone, young and old. I really think you will like them. Each bar is bath size and over 4 ounces each. There is a shipping charge of $4.25 for each order, so purchase some extra bars and save on postage.
New Soap - May 2011
My new supply of HOMEMADE SOAP is ready to go. Available is Eucalyptus Mint, Rosemary Mint, Tea Tree and Rosemary, and Lavender Mint. Brand new for summer and very refreshing is Pink Grapefruit and Lemongrass. Our most popular Wake Up Call is also available. The supply is limited so order early.
NOTE: Not all of our fragrant soap may be in stock when you place your order due to availabilities of herbs and other customer's previous orders. We will try and fill your order as to your request, but reserve the right to substitute a similar fragrance.
WARM COMFORT GOAT MILK SOAP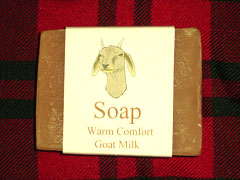 This soap contains olive oil, coconut oil, palm oil, goat milk, cocoa butter and essential oils: (Peru balsam, cinnamon leaf, lavender, and coriander seed) This is Bob's favorite soap.
$4.50 each*
EUCALYPTUS & MINT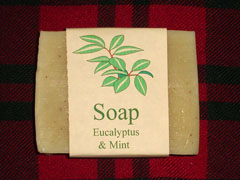 Contains olive oil, coconut oil, palm oil, cocoa butter and eucalyptus, peppermint and spearmint essential oils, and organic peppermint leaves. (I am growing Chocolate mint for use in some of next few batches.) Some say that this soap is good for arthritis and muscular aches and pains. I really enjoy it after a long day working in the garden.
$4.50 each*
ROSEMARY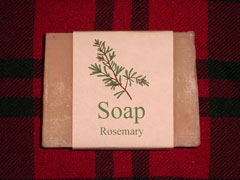 Contains olive oil, coconut oil, palm oil, cocoa butter, castor oil, rosemary essential oil and chamomile blossoms. This soap is gentle and soothing, perfect for those long luxurious baths that end a busy day.
$4.50 each*
MOTHER NATURE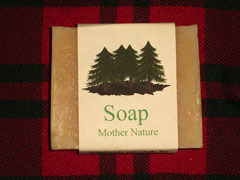 Contains olive oil, castor oil, coconut oil, palm oil, shea butter, cocoa butter, and the essential oils of lemongrass, cinnamon leaf, cedarwoor, patchouli and sweet organge. This soap is soothing for stress.
$4.50 each*
Soap Assortment
Five of our homemade soaps in clasic and seasonal fragrances.
$22.50 for a five bar assortment.*
* Minnesota residents need to pay 6.875% sales tax also.
And MUCH, MUCH, MORE—our new varieties of hand male soap include Lavender, Lavender/mint/ and
Bug Buster.
The Bug Buster soap helps to repel insects such as flies, and mosquitoes. I use it when I am going to be working in the garden. The Lavender soaps make for a relaxing hot bath. It is good stress management!
I recommend that you order a variety of soaps and then decide which ones you enjoy the most. We usually have all the flavors of soap on hand. They are shipped to you the same day that I receive your order.
Soapmaking Ingredients
The goal of soapmaking is to create a mild soap that cleans and moisturizes without the use of synthetic ingredients. Companies that mass produce soap use synthetic ingredients which people may react to in the form of a rash, irritation, or dry skin.
Saponification is the chemical reaction that occurs when you mix fats and oils with lye dissolved in water/milk/herbal teas. Chemically, an acid (fats and oils) and a base (a solution of sodium hydroxide and water) react to produce soap and glycerin. The soap mixture turns into a thick, uniform mixture. The soap mixture is ready to be poured when it has thickened to a trace (soap drizzled onto the surface of the soap leaves a trail). This process is called the cold-process.
Early soapmakers used wood ashes. The soaps were harsh and soft and rather unpleasant. In present days, sodium hydroxide is available in forms that are stable and practical for the home soapmaker.
Soapmakers today use a variety of fats and oils. The reaction is the same for all, but the quality and texture of the resulting soap may be very different. Some soapmakers will simply melt down blocks of glycerin and add a scent or textural type ingredients. This is not a traditional type of soap. A natural glycerin is formed from the cold process method that is much less drying to the skin. It helps your skin retain its natural oils and when essential oils are added, and they can be used to treat skin complaints and conditions.
Oils, Nutrients, and Essential Oils
Olive oil is a very good moisturizer, not because it has its own healing properties, but because it attracts external moisture, holds the moisture close to the skin, and forms a breathable film to prevent loss of internal moisture. With a high percentage of olive oil used in soapmaking, the skin is able to continue sweating and shed dead skin. Pure olive oil soaps centuries ago were called Castile, a very mild soap but with a poor lather. Companies now are producing Castile soap with part olive oil and part tallow.
Coconut oil is made from dried coconut meat. Coconut oil is considered a gift to soapmaking. It creates a creamy lather in soap and is moisturizing when combined with other oils.
Palm oil is made from the pulp of the oil palm tree. It is wonderful within a mixture of other oils. It helps to produce a hard bar of soap and quickens the saponification process.
Cocoa butter is obtained from the same bean as chocolate or cocoa. Cocoa butter lays down a protective layer that holds moisture to the skin, making it a good skin softener.
Castor oil. Like olive oil, castor oil acts as a humectant by attracting and retaining moisture to the skin.
Milk has been used since ancient times as a natural cleanser. It will soothe all skin types and is rich in vitamins.
Oatmeal has long been used to soothe sensitive or irritated skin.
Honey acts as an emollient.
One of the great pleasures in soapmaking is experimenting with combinations of essential oils. Pure essential oils are highly concentrated oils obtained from plants, which carry the scent and the beneficial properties of the particular plants. Unlike fragrance oils, essential oils are very powerful and quite expensive.
Colorants are all natural. They are either spices, (cinnamon, turmeric or paprika) or oxides. Oxides are natural dyes that are made from ground rock and are cosmetic grade.
End of main content.