Puppy Surprise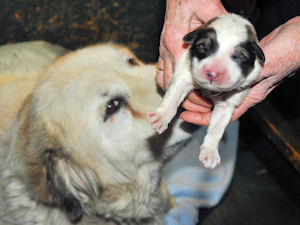 Ginger is our oldest Great Pyrenees female. She is eleven. Ginger is a full time guardian of our flocks and herds. She even likes the barn cats and they love to curl up beside her.  She has mothered many beautiful puppies in her day. Her last litter was three years ago.
The dogs that patrol the pasture with Ginger are Jesse, Josie, and Gracie (all females) and Boaz (our male).  I noticed that Ginger was getting chubby about two weeks ago. Now, I know why.  She delivered a huge, badger marked male pup on December 21st.   Boaz is the sire.   We had thought that she was too old to have pups.  It is like a seventy seven year old woman having a baby. Not too likely.
Ginger and her pup are doing well. They are camped out on a blue blanket in the basement. She has lots of milk and the pup is getting all of it.
Christmas is the season of surprises.  This is our "puppy surprise"!

December 23, 2011 ·

Sarah ·

3 Comments


Posted in: Great Pyrs