Milk and Honey Farm Update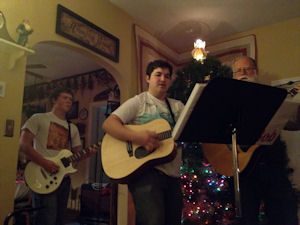 My son, his wife, and four teen age Grandsons went home to Indiana, yesterday.  Today, it is called "clean up" and "recover".  The guest room sheets have been changed and the air mattresses that the kids slept on have been deflated and stuffed under the bed.  The laundry has been conquered and put away. My refrig.  still contains some lefts overs, but that issue will be dealt with for lunch and dinner tonight.  The kitchen floor has been mopped and the Christmas gifts put away.
The big sad thing about today is the grieving poodle, Pilgrim.  He has been running around the house, sniffing, and looking for his buddies.  Ever since they arrived last week, Pilgrim has had non stop play mates and laps to sit on. He even slept in the living room on the air mattress with the guys. Now he is sad, very sad.  I am trying to be sympathetic, but just do not have time to sit and cuddle the pampered poodle.
We went tubing at Powder Ridge, visited Candelas and Guitar Center in Minneapolis, and ate up all the food I had wisely prepared ahead of time. The best part of the entire visit was Christmas Eve.  Bob and the three oldest Grandsons all played guitars and sang Christmas carols  and praise songs to the Lord.  I sat in my favorite chair, wrapped in a sheep fleece blanket, with a poodle in my lap. It was wonderful.
Today, I will clean the house and take a very long nap!!  I will remember to honor the Lord of Lord, the King of Kings, and be thankful for my family.

December 28, 2011 ·

Sarah ·

No Comments


Posted in: Contemplations, News