Pyr Puppies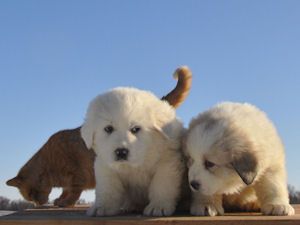 Bob took  pictures of the Great Pyrenees puppies this morning. They are six-weeks old and too cute. They can "woof" "wag" "pounce" and "bounce".
The pups will be ready to go to their new homes in  mid-February. We are receiving deposits to reserve a puppy. To see the puppies,  click here.
Happiness is sitting in a pile of clean straw with a puppy in my lap.

January 28, 2012 ·

Sarah ·

One Comment


Posted in: Great Pyrs