Brandywine Rules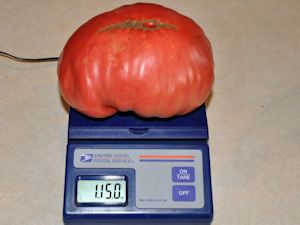 Heirloom, Brandywine tomatoes are the best! Huge, super sweet, and juicy about covers it. The tomato in the picture is just under two pounds and is typical of our Brandy wines.В  Bob just brought in several buckets of tomatoes. I will be in full production tomorrow on the sauce project.
He also brought in our first watermelon, our first Israel melon, some Walla Walla onions, and a five gallon bucket full of Jalapeno peppers.
Beside the sauce, tomorrow will be " pickled pepper" day on the farm. Tonight's supper is right out of the garden.В  Baked potatoes, tomato and cucumber salad, streamed red cabbage, and melon for dessert.
Our buckets are running over!В  What a blessing this is for a city girl from Dallas. PTL!!!

August 19, 2012 В·

Sarah В·

No Comments


Posted in: Garden